Simply the Best Boat blinds available -
- Priced for the average duck hunters budget
Hello, I am Jamey Rex, I build custom fit camo Duck Boat Blinds that set up quicker and easier than any other boat blind you have ever seen.
Most of my competitor's boat blinds require multiple people to set up and can not be customized to fit your boat as well as you would like. Also, with my blinds, it is not necessary to add side skirting or repaint your boat because my fabric hides your duck boat all the way down to the waterline.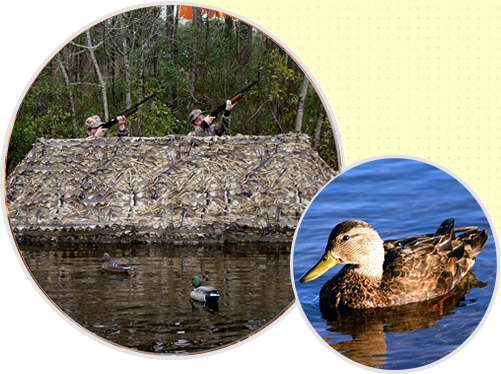 What makes the Easy-Up Duck Boat blind the right choice for you?
My blind is designed and patented by two duck hunters because we were not happy with the features of the other blinds available.
Listed below are some of the important features and differences that make my blind the best choice for many duck hunters.
It only takes one man to set up my blind quickly and easily. Some other boat blinds require two hunters and can be very awkward to set up. With our duck blind, there are no loose parts to be dropped or lost in the dark, and the setup is easily accomplished in less than 10 seconds, even while wearing heavy gloves. 
Many other boat blinds use cheap die-cut cloth or heavy solid cloth. I use premium 3-D leafy material manufactured by Mossy Oak, and my material consists of a rip-stop camo backing onto which are sewn strips of leafy camo material. This gives my blind a very 3-D leafy look while still being windproof.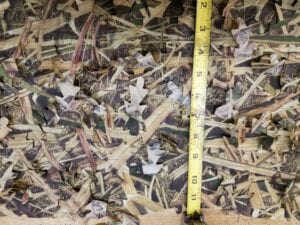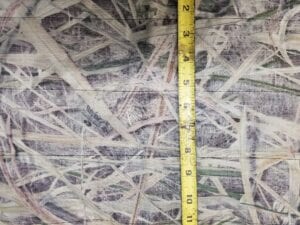 I use Mossy Oak brand camo patterns for my duck blinds. If you would prefer a different camo pattern, please let me know, and I will see what can be done about offering that as well.
Designed right into this duck boat blind are easy to use dog openings located in the center on both sides of the boat. This allows your dog to be inside the boat, in control, and doesn't require him to exit off the bow or over the battery and gas tank next to the outboard motor.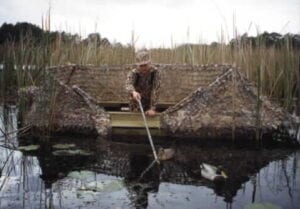 My blind framework follows the shape of your boat rather than just being a square box that attaches to your boat. This allows it to fit on a narrow pointed boat equally as well as a wide square one.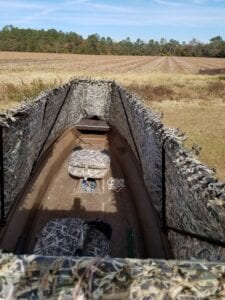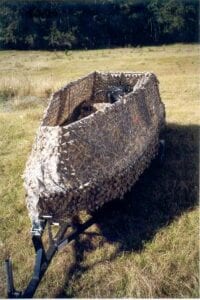 We build this blind to fit any size hunting boat and offer it in 3 kit sizes: Up to 15', 16-17', and 18-20' boats. We also offer these as a bare frame kit if you prefer to install just the frame and use your own camo fabric to cover it with.
With our duck boat blind, YOU decide how tall you want your blind to be. This is easily done during installation and allows you to match the boat blind to your seat height and personal preference. Other duck blinds on the market today have all of the dimensions factory pre-set, which may or may not work well for you.
In response to several requests from my customers, I designed a non-mechanical top cover that quickly became a popular option for my customers, both with my blind or added later to an existing Easy-Up blind.
More info on our top kit is available HERE.
With or without the top option installed, the opening at the top of my blind can be made as wide or narrow as YOU prefer. This is easily determined and set during installation.
Some other blinds only cover a portion of the boat leaving the nose, engine, or sides exposed unless you purchase additional side skirts or engine cover etc.
Our blind covers the complete boat and motor down to the water line thereby eliminating the need to paint your boat, purchase expensive decals, or add extra side skirts or motor covers.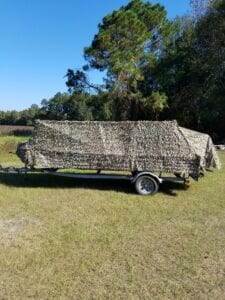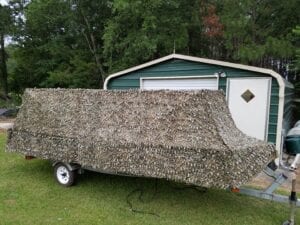 A side steering console will get in the way of many blinds, however, the Easy-Up will fit your boat properly and work equally well no matter what type of steering system your boat has.
Regardless of whether your boat has tiller steering, stick steering, center console, or side console steering, you can rest assured that our Easy-Up blind will work well with it.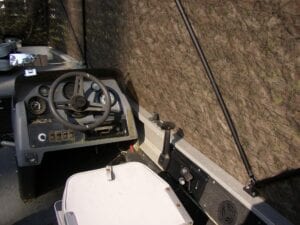 At only 30-35 pounds, our blind weighs only 1/4 to 1/2 as much as many other blinds on the market.
These are currently very popular with duck hunters, and many of the other commercial duck blinds on the market do not work well with them. When I started this business back in the mid '90s, my very first Easy-Up blind went on a boat with a longtail Go-Devil motor.
My optional mud-motor adapter allows any of our boat blinds to work perfectly on any boat with a mud-motor. This was part of my design from the start and not an afterthought modification.